Ron Raymond, Sales Associate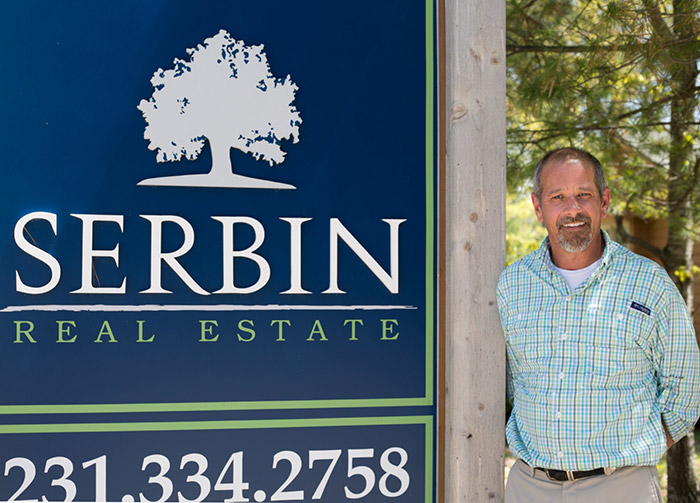 ron@serbinrealestate.com
231-334-2758
Ron has been selling real estate for 12 years and has handled transactions from as low as $9,000, to as high as $5,000,000. Ron is an energetic guy, who is knowledgable, genuine and honest. Ron prides himself on staying with his clients as long as it takes to find, and/or sell, the perfect property, some as long as 3 years or more.
On the personal front, Ron has 3 children, Gray, Ava and Savannah and is married to his wife Martha. He has vacationed on his parents property since 1966 and has been a permanent resident since 1999. Ron lives in Glen Arbor township and enjoys golf, skiing, fishing and travel with his family.
Testimonials from some of Rons' clients:
Ron helped us sell our beach house on Sleeping Bear Bay and found us our dream home on Glen Lake! Ron is helpful, knowledgable and professional. He knows the local market extremely well. The entire Serbin staff is attentive, courteous and efficient in providing support. We highly recommend Ron Raymond for your real estate needs. You only need one realtor in the Glen Arbor area and Ron Raymond is it!
-Greg and Michelle Christensen, Glen Arbor, MI
There are so many good real estate agent options here in Glen Arbor area. I hired Ron Raymond at Serbin Real Estate to sell my home on Big Glen Lake and he truly exceeded all of my expectations. From the day we listed until the day we closed, his commitment to me and my property was unparalleled. Nobody works harder than Ron. Nobody communicates better than Ron. He has a great feel for this market and a good rapport with other agents in the area. Ron Raymond is a true professional and I would not hesitate to hire him again.
-T. Chase Kendall, Empire, MI
Ron Raymond's knowledge of the Glen Lake real estate market is remarkable. Ron secured us our dream summer cottage on Big Glen Lake 4 years ago. His professionalism, knowledge and personal touch was a blessing during the purchase. I would recommend Ron for anyone looking to buy or sell property on Glen Lake!
-Jason Kendall, Kamp Kendall Kottage
Ron was a tremendous help in my finding the perfect home. He was present and responsive and made sure everything was in order and even the little things taken care of before closing. He has become a good friend and I would turn to him again without hesitation, were I to buy another home or property. You can count on Ron to keep his eyes open for just what you're looking for and make sure you have every opportunity to see exactly what you want!
-Black Dog Bend, Glen Arbor, MI
From start to finish, it was the easiest and most enjoyable house hunting and purchase I've ever experienced. Ron knows everyone and put me in contact with the most reliable contractors for everything I needed. He is a consummate professional who listens to your needs and I trusted his opinions implicitly. If you are looking for your home, a vacation property or a rental property, go to Ron. I've recommended him to friends for all of those types of homes and he always delivers and makes the process a breeze.
-Jennifer Szeezil, Maple City, MI